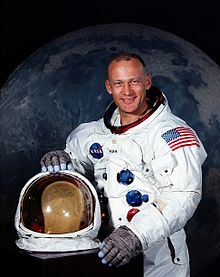 Aldrin was chosen for the crew of Apollo 11 and made the first lunar landing with commander Neil Armstrong on July 20, 1969.
The next day, Aldrin became the second person to walk on the Moon, keeping his record total EVA time until that was surpassed on
Apollo 14. Aldrin's first words on the Moon were "Beautiful view." Then, in response to Armstrong asking, "Isn't it magnificent?", he responded, "Magnificent desolation."
Aldrin, a presbyterian, was the first person to hold a religious ceremony on the Moon. After landing on the Moon, he radioed Earth: "I'd like to take this opportunity to ask every person listening in, whoever and wherever they may be, to pause for a moment and contemplate the events of the past few hours, and to give thanks in his or her own way." He took communion on the surface of the Moon, but he kept it secret because of a lawsuit brought by atheist activist Madalyn Murry O'Hair over the reading of Genesis on Apollo 8.
Aldrin, a church elder, used a home communion kit given to him, and recited words used by his pastor at Webster Presbyterian Church, the Rev. Dean Woodruff. The communion elements were the first food and liquid consumed on the Moon: in Guideposts, Aldrin stated: "It was interesting to think that the very first liquid ever poured on the Moon, and the first food eaten there, were communion elements."
---
11:23 For I have received of the Lord that which also I delivered unto you, That the Lord Jesus the same night in which he was betrayed took bread:

11:24 And when he had given thanks, he brake it, and said, Take, eat: this is my body, which is broken for you: this do in remembrance of me.

11:25 After the same manner also he took the cup, when he had supped, saying, This cup is the new testament in my blood: this do ye, as oft as ye drink it, in remembrance of me.

11:26 For as often as ye eat this bread, and drink this cup, ye do shew the Lord's death till he come.
---
3:24 Being justified freely by his grace through the redemption that is in Christ Jesus:

3:25 Whom God hath set forth to be a propitiation through faith in his blood, to declare his righteousness for the remission of sins that are past, through the forbearance of God;

3:26 To declare, I say, at this time his righteousness: that he might be just, and the justifier of him which believeth in Jesus.
---
---
Roman Catholicism Compared To Biblical Chrsitianity
---
---
Religions Of The World The 2nd Death (Sermon Text) The Eternity Of Hell's Torments (Audio) (MP3) Read God's Word
Identify Cults And False Religions ThisWasYourLife.org FineTunedUniverse.com GooToYou.com ThisWasYourLife.org