Evolved "Woodpecker Owl"
MILLIONS of years merged the woodpecker and owl into a "Woodpecker Owl".
(How this occurred over MILLIONS of years is a mystery you can solve using your imagination.)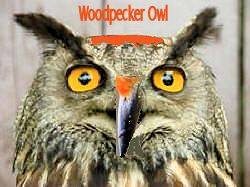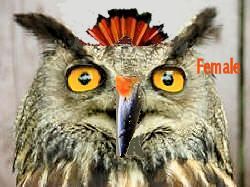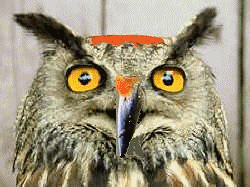 ---
This is my idea of what an "evolved" "woodpecker owl" would look like. It would have orange feather tuff on the top of its head and of course a long beak for pecking trees. This is a "doctored" image of an owl that has been modified to look like an "evolved' owl that has been transformed into a "woodpecker" owl over MILLIONS of years. Looks like evolution made a mistake.
I named them Mark, Judy and Whoodat.
Evolutionists use similar "doctored" images to display imagined animals that have "evolved" over MILLIONS of years.
You look at the picture and think evolution over MILLIONS of years produced what you see, but it is only in the imagination of the evolution artist!
"Woodpecker Owls" are NOT real. Evolution over MILLIONS of years is NOT real.
Believing in a "Woodpecker Owl" is the same as believing in mindless evolution over MILLIONS of years.
The idea of a "woodpecker Owl" makes sense only if you believe it could happen over mindless MILLIONS of years by accident!
Evolutionists actually are telling two lies at once. (1) That the earth has existed for millions of years (2) That millions of years produced a "Woodpecker Owl"
Millions Of Years Evolution Theory (Refuted)
Evolution = Millions Of Years + Your Imagination
---
I could make up a short story to stimulate your imagination and try to explain how an owl could turn into a "Woodpecker Owl" over MILLIONS of years.
If I started the story by saying, once upon a time you would know it was a fairy tale just made up.
If I started the story or evolution explanation in terms that sounded like facts you would be more inclined to believe what I told you.
Example:
Evolution of the Woodpeck Owl species:
"The evolutionary relationships of the woodpecker and woodpecker owls are not entirely clear. What is certain is that they are very closely related; they may be considered sister lineages that evolved over millions of years retaining their characteristic woodpecker and owl sound.
A screech woodpecker owl fossil from the Late Pliocene of Kansas (which is almost identical to eastern and western screech woodpecker owl) indicates a longstanding presence of these birds in the Americas. Woodpecker Owl fossils, male and female very similar to the Eurasian woodpecker owl have also recently been found in Stephen Hawkings backyard!
It was given the name "WhooDat" after Hawkings exclaimed, "Whoo Dat" when he heard the sound while imagining new evolution theories in his backyard.
Now that sounds like an evolution fairly tale that is made to sound like its real science but its just evolution speculation NONSENSE made up to stimulate your imagination into believing a lie!
This is the kind of garbage that is taught in public schools as "real science".
Children look at the doctored and imagined pictures and believe they are real because they see a picture and their teacher read to them a chapter in a "science" book that is not real science but evolution science.
Evolution "science" is doctored historical science based on speculation over MILLIONS of years.
Woodpecker Owl Story Twucan Owl Story WooDat Owl Song
I have told the "woodpecker owl story" many times to many people. Some people see the connection right away and burst out laughing others take a few seconds. I guess after they make the connection and picture a "woodpecker owl" with its long beak pecking on a tree they laugh and see that evolution over millions of years + your imagination is total NONSENSE just like the "woodpecker owl" story. :)
Evolution = Millions Of Years + Your Imagination
---
---
---
Who Designed Woodpeckers? The Amazing Woodpecker The Silence of the Owls Calculating Owls
---
The Creation Answers Book
Click on book to read or click this link Creation Answer Book Creation.com
20 Chapters (More than 60 of the most asked questions about Creation, evolution, and the book of Genesis answered!)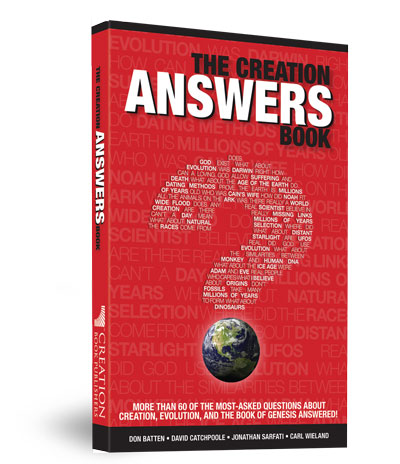 ---
TAKE THE EVOLUTION TEST (EVOLUTION FLUNKED THE SCIENCE TEST! (PDF FILE)
Evolution 101 (25 FREE Lessons Proving Evolution Is False)
SIX 24 HOUR DAYS OF CREATION     EVOLUTION'S MILLIONS OF YEARS OF CREATION DISPROVED/REFUTED!
BIBLICAL EVIDENCE THAT THE FLOOD WAS A YEAR-LONG, GLOBAL CATASTROPHE
READ THE ONLINE BOOK   (EVOLUTION IS A RELIGION)  WWW.GEN1.ORG
---
(Keep in mind an evolution explanation that involves a millions or billions of years timeline left up to your imagination to examine and conclude how this happened is NOT a rational explanation at all. How can you figure out the millions or billions or years evolution timeline if evolutionist's can't and just leave that part up to your own number cruncher.)
Evolution = Millions Of Years + Your Imagination Millions Of Years + Your Imagination = A "Woodpecker Owl" ????
---
(INSTITUTE FOR FINE TUNED STUDY) (No time limits, tuition cost, fees or tests.)
Fine Tuned Universe CREATED BY GOD BY Design. The Heavens Declare The Glory Of GOD.
Also Get FINE TUNED UNIVERSE On Your ROKU Player.
EVOLUTION 101 (25 FREE LESSONS FOR STUDENTS AND TEACHERS THAT REFUTES EVOLUTION).
TAKE THE EVOLUTION TEST (EVOLUTION FLUNKED THE SCIENCE TEST!) (PDF FILE)